User's Guide
explosive tnt
teckies tutor
teckies files
helpzone a4q
computer health
Resources
freewareZone
teckies talk
online directory
net@lebanon
IT News
Welcome to teckies.com freeware zone. At this channel you will be able to download
the best and most useful software on the Internet, all for free.
Most freeware are reviewed and sorted into categories, to browse this section use
the text links, or the drop-down menu to visit a category of interest.

Check out the freeware of the week !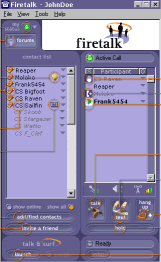 Firetalk - free voicemail, chat, worldwide calls !

Firetalk is a free communication application that allows you to chat, send voicemail, surf and talk with your friends worldwide even make free phone calls !

The software is about 2MB and is quite easy to install.
After downloading the setup program, double-click on
FTSetup icon to install the program on your computer.
Once done press on "Create New Account Now"
button to setup your own account and then check mail
for your Firetalk ID Number and Password information.
Next enter your Firetalk ID Number and Password into the "Login" window and join thousands of firetalk users worldwide.

Download 2MB